We Are Ohio's Premier Office Furniture Installation Company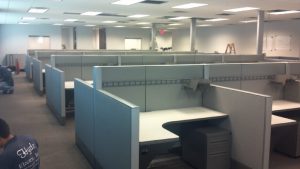 Great Lakes Installations, Inc. has been providing office furniture installation in Ohio since 1998. Great Lakes Installations, Inc. has continued to partner with, adapt to, and offer an extensive array of services for many companies in Ohio as their businesses have grown and downsized. With manufacturer certified installers on all major office furniture systems, you can rely on our experience to ensure your install is professional, smooth and well thought out. Our team of professional installers will execute your project according to plan, report progress and communicate at the appropriate levels.
Ohio Office Furniture Installation

GLI's installers are experienced in the most contemporary work stations and apply the training and knowledge they have gained to produce the highest quality workmanship in the contract furniture industry. GLI is a broad-based installer of work station brands such as Steelcase, Herman Miller, Teknion, Knoll, Haworth and more. Additionally, we are a turnkey resource for the installation of mobile work stations, architectural walls, demountable walls, mobile filing units, racking/shelving and more.
Ohio Office Furniture Reconfiguration

In today's world of human-centered office design, innovation, technology and rapidly changing amenities, corporations must have an office system which is flexible, moveable, and changeable in an instant. Having a partner who can reconfigure small to large offices and public spaces in a timely fashion with no disruptions to workflow is paramount. Changing your office doesn't have to involve major construction. Whether it's one office, a conference room or an entire building Great Lakes Installations, Inc., has your back.

Furniture, Fixture & Equipment Estimate
Fill out our form for a Furniture, Fixture & Equipment estimate today!